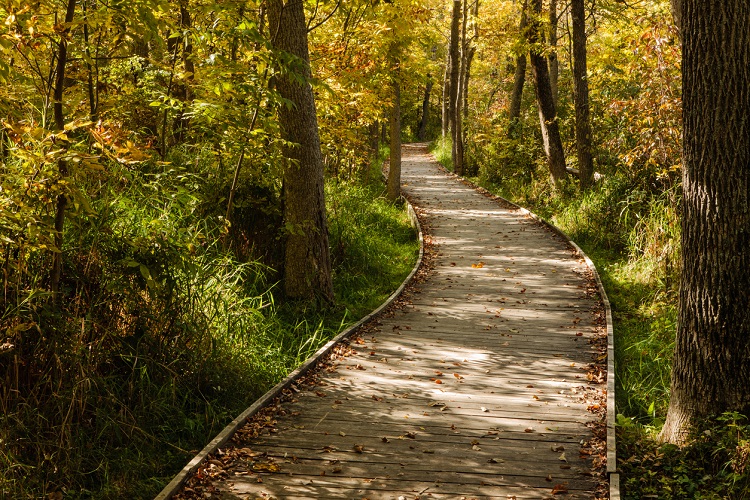 You don't need to be an outdoor enthusiast to enjoy walking on the trails in and around Kinston, North Carolina. Depending on where you live, you might discover a trail nearby. If not, you'll find plenty of places within driving distance. Not only is this a great way to see the beautiful outdoors but also good exercise. Another thing, this makes family time more fun.
Green Mill Run Greenway
You'll love many things about this trail, including that it connects to some of the biggest city attractions. Along with that, this trail makes it easy to get from one college institution to another. Here's another reason to take a stroll on this beautiful trail – one stretch features tennis courts, playgrounds, athletic fields, and more. For five miles, you'll find yourself surrounded by gorgeous wooded scenery.
River Trail
Because this trail is easy to walk and has an abundance of trees, it's popular. It runs parallel to the Tar River and has a long history dating back to the Civil War. Before colonists arrived, Indians from the Tuscarora tribe traveled to this area. Now, if you pay close attention while taking a stroll, you might come across some kind of relic. For the most part, this trail has a paved surface. However, one boardwalk goes directly over the marsh habitat.
Stadium Greenway
Are you getting older, or perhaps you have difficulty walking long distances? Maybe you want to take your young children on a stroll. Regardless, this is a great option. First, this trail has a paved surface. Second, it's a short trail. Because the Stadium Greenway connects to the Green Mill Run Greenway, you can walk further if you want.
South Tar River Greenway
Stretching a little more than three miles, this trail is ideal for exercise and spending quality time outside. Because it's surrounded by thick woods, people often walk here to relax and unwind. At the same time, it's a popular trail for families. Not only is the surface paved, but you can also take it to the Town Commons. There, you can get on a boat for access to the waterway.
You might also like: Easy Ways To Decorate Your Porch For Fall
Princeville Heritage Trail
The Princeville Heritage Trail has a fascinating history from the Civil War era. Freed slaves in 1865 settled in an encampment along the Tar River belonging to Union troops. Eventually, the troops left. That's when the slaves began to call the area Freedom Hill. Then in 1885, the town was officially chartered. At that time, its name changed to Princeville after Turner Prince, the earliest settler. Roughly one-half mile from the trail's western end, you'll discover the Princeville Museum.
Disclaimer: The stock image is being used for illustrative purposes only, and it is not a direct representation of the business, recipe, or activity listed. Any person depicted in the stock image is a model.