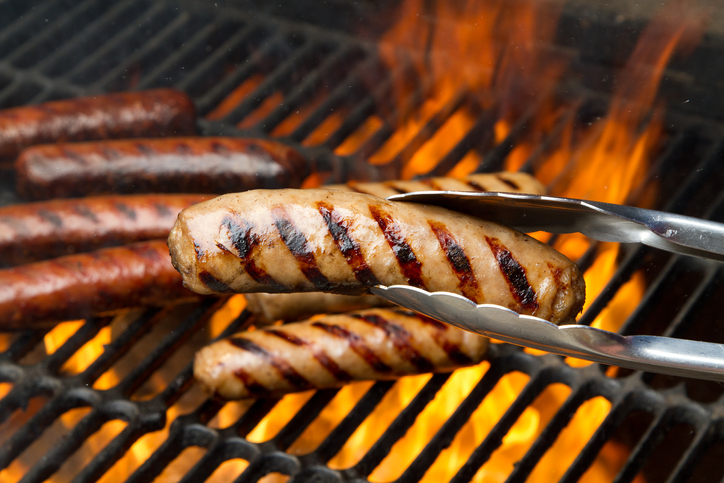 Summer is the perfect occasion for backyard barbecues and picnics with family and friends. Moreover, when you think of these get-togethers, certain food probably comes to mind. For example, among the most popular selections are hot dogs. This season, step things up a bit with beefier, juicier bratwurst. These will be a crowd-pleaser at your next event. Making brats isn't as difficult as you may think either.
Items You'll Need
This list of ingredients for the perfect bratwurst is small. The recipe is easy, and you may even have some of the items on hand in your kitchen. Firstly, gather the following:
Canola oil
Four bratwurst sausages
One sliced red onion
Half a cup of water or stock
Kosher salt
The prep time for this bratwurst recipe is only about two minutes. In addition, the total cook time is just 18 minutes. The recipe serves four people with one brat per person. If you have more people over or you want more than one brat, then plan accordingly by doubling or tripling the ingredients.
Directions
Secondly, it's time to start making your mouthwatering brats. Begin by heating some canola oil over medium heat in a large cast-iron skillet. Be cautious not to heat it up too long. For instance, once the skillet starts to smoke, it'll be time to place the brats. Before doing so, however, use a fork to poke a few holes in the bratwurst. This will prevent them from bursting while you cook them.
As the brats are cooking, place the chopped onions around them. Then, stir them around in the oil, coating them well. For best results, you'll want to cook the brats for three to four minutes per side. Once they are brown, it'll be time to pour the water, beer, or stock into the skillet. Cover the skillet and turn down the heat to medium-low.
Finishing Touches
Fourthly, you should cook the brats with the lid on for about 10 minutes. Furthermore, the temperature of the brats should be about 160 degrees. At this time, take off the lid and sprinkle salt on the onions. Cook the bratwurst for a few more minutes. This will reduce the liquid content. At this point, it's time to take out the brats and serve them.
You might also like: Catch A Down East Wood Ducks Game
What Pairs With Bratwurst?
One of the nice things about eating bratwurst is it works for any meal of the day. Moreover, you can serve the sausages with a variety of different foods. For example, brats go well with mashed potatoes, potato salad, cucumber salad, or even chips. Many people like to dip their brats in mustard too. Plus, you can wash down your bratwurst with your favorite beverage.
As you plan meals and gatherings this summertime, make sure to incorporate bratwurst into your menu. This simple recipe will turn any party or mealtime into a happy time. The whole family will enjoy these filling brats.
Disclaimer: The stock image is being used for illustrative purposes only, and it is not a direct representation of the business, recipe, or activity listed. Any person depicted in the stock image is a model.