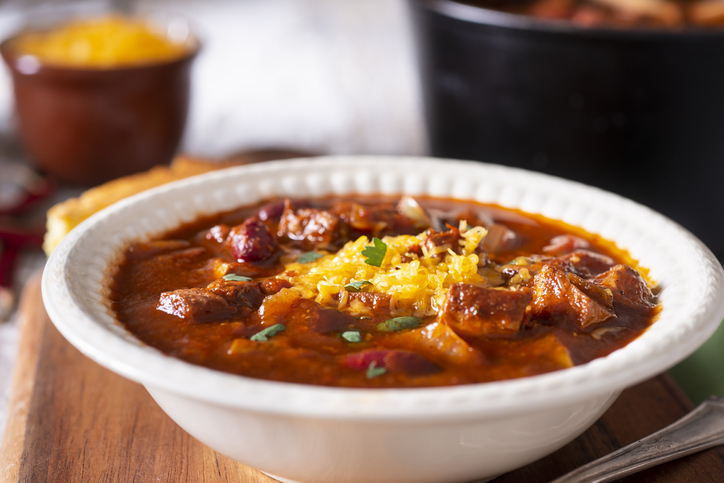 When you think of perfect wintertime food, chili is probably high on the list of things that come to mind. Chili goes well with many side dishes. Moreover, you can enjoy it for lunch, dinner, or even as a snack in between. However, while a lot of people may not want to take the time to make a homemade bowl of chili, it's worth the effort. This winter, warm up with this delicious recipe. Serve it for yourself and your family, and discover a recipe you'll want to make repeatedly.
What You'll Need for the Chili
You'll need to assemble quite a few ingredients for this chili recipe. But the good news is that you may already have some of these. Begin by getting together the following so you can start cooking this delicious chili:
One 15-ounce can of kidney beans, rinsed
One 15-ounce can of cannellini beans, rinsed
3 tablespoons of olive oil
One red bell pepper, diced
One 28-ounce can of crushed tomatoes
1 1/2 cups of vegetable stock
Three garlic cloves, minced
1/2 delicata squash, cubed
One jalapeno pepper, diced
1 tablespoon of paprika
2 tablespoons of cumin
1/2 teaspoon of ground cayenne
1 teaspoon of oregano
One-half medium yellow onion, diced
Salt
What You'll Need for the Dumpling Tipping
Secondly, in the chili, you'll place some hearty dumplings to augment your chili. This is a nice vegetarian addition to the chili. However, you can leave it out if you wish. If you want to include it, assemble the following:
1/2 cup of all-purpose flour
One large egg
1/2 cup of corn flour or fine cornmeal
1/2 teaspoon of baking soda
Freshly ground black pepper
1/4 teaspoon of salt
1 tablespoon of flat-leaf Italian parsley, minced
1/2 cup of buttermilk
1/4 cup of unsalted butter, melted
Begin Putting the Ingredients Together
Once you have all the ingredients, it's time to start cooking. Firstly, put the olive oil in a pot over medium heat. Then add the diced red bell pepper, squash, and jalapeno pepper. Cook these until they are soft, which will take about five to seven minutes. You'll then mix in and cook the garlic, cumin, oregano, paprika, and cayenne for a minute. Pour in the kidney beans, tomatoes, cannellini beans, and vegetable stock. Simmer this for about 10 to 15 minutes. Moreover, add a little salt to taste.
You might also like: Take A Trip To Exchange Nature Center
Finishing Up
Furthermore, preheat the oven to 350 degrees. Whisk the corn flour or cornmeal in a medium bowl with the flour, baking soda, and salt. Put the wet ingredients in the dry until combined; however, don't overmix. Lastly, put scoops of the dough onto the chili and move it to the oven to cook for 15 minutes. Enjoy your chili!
Make this recipe this winter to warm up and enjoy a delicious meal. This is something you can enjoy throughout the season.
Disclaimer: The stock image is being used for illustrative purposes only, and it is not a direct representation of the business, recipe, or activity listed. Any person depicted in the stock image is a model.