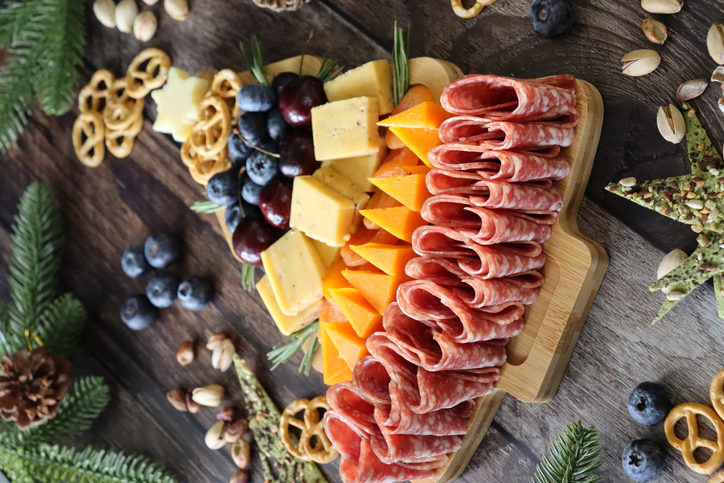 With this CharcuterTREE board, you'll make every one of your guests happy. That's because it's made with delicious food items. In addition, it's in the shape of a Christmas tree. Not only is this board made with yummy things to eat, but it also looks festive.
Gathering the Items that You'll Need
To make this, you'll need a board. One that measures 14×20 inches is a nice size when hosting a relatively large number of people. However, you can adjust the size based on how many guests you invite. For the best display, be sure you choose a wooden board. Here are the other items you'll need:
Assortment of Cheese – Although you can choose whatever kind of cheese you want, you can't miss with Colby jack, Havarti, cheddar, and provolone. You'll need to cube all of the types of cheese, excluding the provolone. For that, you'll use slides.
Assortment of Meat – Again, you can go with all kinds of meat, but calabrese salami and regular salami are the best.
Assortment of Produce – As for the produce, buy blackberries, raspberries, and Castelvetrano olives for this board.
Assortment of Carbs – You'll also need different types of carbs. Some excellent suggestions include pretzel sticks, sugar cookies, and chocolate shortbread cookies.
Garnishes – To complete this CharcuterTREE board, you'll want to buy a few sprigs of rosemary.
Arranging the Food
Remember, the goal is to arrange the food in the shape of a Christmas tree. To do that, first, use a snowflake or star cookie cutter to shape the provolone cheese. Then, make folds in the salami. With that done, you'll place three to four pieces on a toothpick. In this case, choose toothpicks in colors for the specific holiday.
Now, starting from the bottom of the board, begin by creating a row of cheese, followed by a row of meat, produce, and then carbs, excluding the pretzel sticks. As you go, stick to a triangle shape that looks like a Christmas tree. With that done, you'll use the pretzel sticks to make the base of the tree. Finally, place several sprigs of rosemary around the tree.
You might also like: Decorating Tricks To Make Your Holiday Cozy
Dessert Board
You can also make a dessert board in the shape of a Christmas tree. For this, you'll use different food items. For instance, you'll need sugared cranberries, apple slices, grapes, flavored and colored Oreo cookies, gummies, and so on. To add beautiful green color to a dessert board, simply use edamame.
No matter which type of board you prefer to make, your guests will love it. Now, if you really want to impress your guests, make both kinds of boards. Just be sure to set out toothpicks, small serving plates, and napkins.
Disclaimer: The stock image is being used for illustrative purposes only, and it is not a direct representation of the business, recipe, or activity listed. Any person depicted in the stock image is a model.