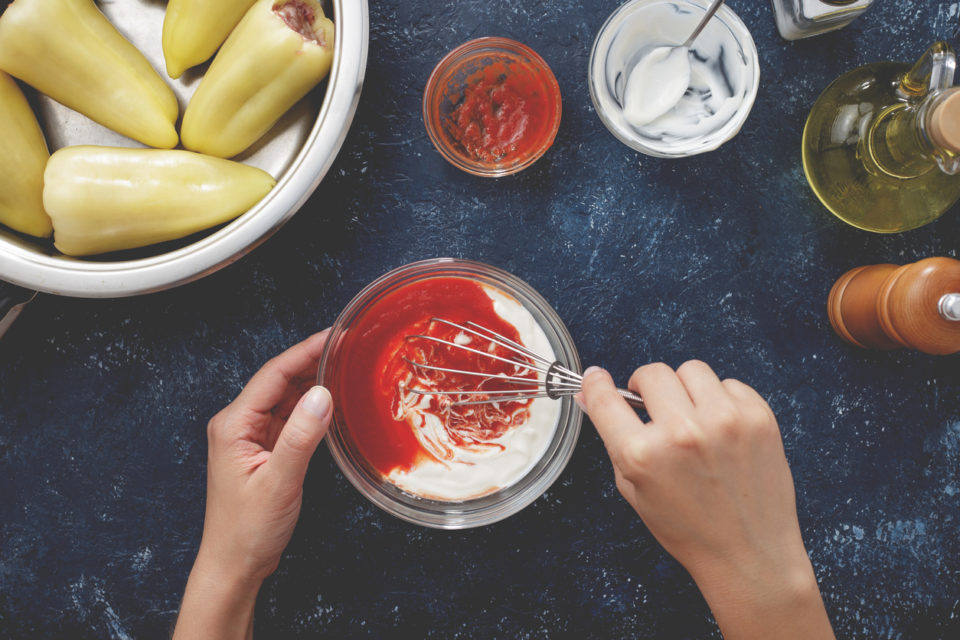 Do you have a craving for some Carolina-inspired sauces, but you don't feel like going out to eat? Instead of stifling your craving, make some sauces at home. Carolina-inspired sauces are surprisingly easy to make, and they'll add delicious flavors to your meals. In fact, they're so good that you'll want to try them all.
Carolina Mustard Sauce #1
It's hard to beat a Carolina mustard sauce on pork or chicken. That's especially true when you follow this recipe for Carolina Mustard Sauce #1.
First, you need to get:
1 3/4 cups prepared yellow mustard
1 1/8 cups honey
2/3 cup cider vinegar
1/4 cup ketchup
3 tablespoons brown sugar
1 teaspoon Worcestershire sauce
1 teaspoon Tabasco or another hot pepper sauce
Next, mix all the ingredients, and put the sauce into a jar. Seal the jar and put it in the refrigerator for a minimum of 24 hours. Then you can use it on chicken or pork.
Uncle Mike's Vinegar Pepper Sauce
If you have North Carolina barbecue on your mind, this recipe for Uncle Mike's Vinegar Pepper Sauce must be calling your name. This sauce takes a few minutes longer to make, but it's still simple.
Gather:
1 1/2 cups cider vinegar
10 tablespoons ketchup
1/2 teaspoon cayenne pepper
One pinch of red pepper flakes
1 tablespoon white sugar
1/2 cup water
One pinch of salt and black pepper
Put a small saucepan on the stove and turn the heat to medium. Then add everything but the salt and pepper. Stir the ingredients and let it simmer until the sugar dissolves, which takes about 15 minutes. Then add the salt and pepper, take it off the burner, and give it time to cool. Once cool, you can use it to baste meat before putting it on the grill.
Carolina BBQ Sauce
This recipe for Carolina BBQ Sauce is phenomenal. The vinegar-based sauce has mustard seed, and the flavors play off each other perfectly.
First, you need to grab:
2 cups apple cider vinegar
1 1/2 cups apple cider vinegar
1 cup dark brown sugar
2 tablespoons Dijon mustard
1 tablespoon yellow mustard seed
1/2 cup tomato paste
1/4 teaspoon salt
1/4 teaspoon fresh ground black pepper
Two smoked pork neck bones
Put a heavy-bottomed saucepan on the burner and turn the temperature to medium. Toss in the ingredients and stir them. Then let it simmer for about 30-40 minutes. Once the sauce thickens, take it off the burner and remove any foam that's settled on the top. Lastly, remove the pork neck bones. Then it'll be ready to eat.
You might also like: 5 Cool Car Accessories To Try
Western North Carolina Vinegar Barbeque Sauce
This recipe for Western North Carolina Vinegar Barbeque Sauce rounds out the list. Start by gathering:
4 cups cider vinegar
1/4 cup butter
2 tablespoons fresh lemon juice
1 cup brown sugar
2 tablespoons Worcestershire sauce
1 1/3 cups ketchup
2 tablespoons Tabasco or another hot pepper sauce
1 teaspoon salt
2 teaspoons red pepper flakes, crushed
2 teaspoons mustard powder
1 teaspoon ground black pepper, fresh
Throw the ingredients in a saucepan and cook it on high heat. Once it simmers, reduce it to medium-low. Let it simmer for another half hour, making sure to stir it occasionally. Then take it off the stove and transfer it to a heatproof bowl so it doesn't cause damage. Cover the bowl and put the sauce in the refrigerator for the next 48 hours.
Then remove it from the fridge and strain it to get rid of the red pepper flakes. Once it's at room temperature, it's ready to eat. However, make sure you store the rest in the refrigerator.
With recipes like these, you're sure to eat well this week. Try them all so you can enjoy all the flavors.
Disclaimer: The stock image is being used for illustrative purposes only, and it is not a direct representation of the business, recipe, or activity listed. Any person depicted in the stock image is a model.